The Readiness Test
With All Due Respect. . . .
I am not a Business Continuity/Resiliency Planner(BCP). I am an emergency response planner. I understand the importance of BCP, but the topic never really piqued my interest until September, 2014 during a pre-conference workshop I was attending. It was there I listened to and met, Dr. David Lindstedt.
I was captivated from the beginning of his workshop. This was not your ordinary BCP workshop. I always thought BCP was about recovery from a system outage or what to do if your corporate headquarters was hit by a tornado. Yes, I am over simplifying but you get my point. This was far more than the usual presentation on BCP.
What Dr. Lindstedt addressed in his conference was a tool that went beyond the "plans on paper" stage and addressed the issue I always felt was missing from BCP and that was readiness! How do you measure how ready you are for when a disaster, manmade or natural impacts your company's infrastructure. Dr. Lindstedt had the answer, The Readiness Test™.
The Readiness Test™ reflects an organizations readiness in 3 key areas:
Resources
Competencies
Procedures
How comfortable are your employees in executing your organizations business continuity plan? Do your employees feel they have the competencies and skills needed to respond in an emergency? How well do your employees understand the procedures spelled out in your BCP. The Readiness Test is able to measure these 3 key performance indicators.
With the Readiness Test, you are able to:
Obtain a quantitative measure of your company's ability to recover from disaster.
Monitor progress of your staff across the entire organization through easy to interpret diagrams.
Compare readiness across multiple departments to find out who is really ready, and who is not.
This was the first time in a long time where a BCP presentation held my attention. Yes, Dr. Lindstedt did a great job presenting but the overwhelming interest for me was the measurement of readiness.
Are you ready?
For more information:
Contact me: kjenkins@kenjenkinsllc.com
or
Contact Dr. Lindstedt directly: david@readinessanalytics.com
Learn more about The Readiness Test at: www.readinessanalytics.com
Try The Readiness Test for free at: http://www.readinesstest.com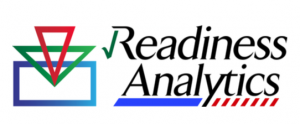 Comments are closed